Tool Enquiry Form
Want to hire this tool? Enquire now!
Turf Cutter - Petrol For Hire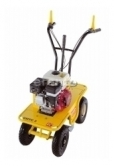 For fast removal for unwanted turf and when you want a good flat surface to work with and dont want a bad back, Then this is the tool for you has geared drive for ease of use
Removes 35mm of turf
Petrol unleaded fuel
Handle folds to fit in estate or small van !
Hire rates for Turf Cutter - Petrol
Day
Weekend
Week
Deposit
Usual Price
£35.00
£45.00
£80.00
£150.00
ONLINE
DISCOUNT

£29.75

*

£38.25

*

£68.00

*

£127.50

*

* - Please use code ONLINE15 when ordering to take advantage of this offer

All Prices Subject to VAT charges
Call 0161 785 8899 to Hire This Tool Now Other Tools You May Be Interested In: