Tool Enquiry Form
Want to hire this tool? Enquire now!
110v Poker Drive C/w Poker 2\" For Hire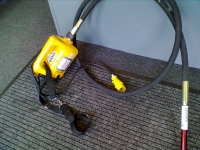 Durable hand held electric drive units with lightweight flexible drives and poker heads.
Robust construction for site durability

Improved double casing design offers greater protection to the motor

Excellent vibration output increases productivity up to 35m3/hr

handles for easy carrying making vertical use easy

Interchangeable Shafts and Poker Heads to suit your application

Foam and grating filter at air intake

Hire rates for 110v Poker Drive C/w Poker 2\"
Day
Weekend
Week
Deposit
Usual Price
£35.00
£43.75
£70.00
£75.00
ONLINE
DISCOUNT

£29.75

*

£37.19

*

£59.50

*

£63.75

*

* - Please use code ONLINE15 when ordering to take advantage of this offer

All Prices Subject to VAT charges
Call 0161 785 8899 to Hire This Tool Now Other Tools You May Be Interested In: