Tool Enquiry Form
Want to hire this tool? Enquire now!
BS600 Rammer For Hire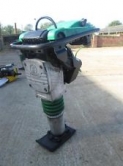 WACKER's WM 80, 2-stroke engine, built for tough rammer applications. WACKER rammers have set the standard in the construction industry. These rammers are powered by the exclusive WM 80, the only 2-stroke engine specifically designed and built for vibratory rammers and meets EPA and European air emission standards. WACKER's rugged rammers are designed for maximum production, performance and durability.

Specifications
Dimensions length x width x height 675 x 345 x 940 mm
Shoe size (w x l) 280 x 330 mm
Operating weight 59 kg
Compaction depth (depending on soil) 510 mm
Stroke 72 mm
Impact energy 76 J 56 ft.lbs.
Force/blow per CIMA - LEMB 12 kN 2,695 lb
Percussion rate up to 700 1/min
Travel speed up to 18 m/min
Compacted area 301 m2/h
Engine Type air-cooled, 2-stroke, single cylinder WACKER WM 80, petrol engine
Horsepower 3 kW 4 hp
Fuel to oil ratio 50-100:1
Fuel consumption 1 l/h
Fuel tank capacity 3.0 l
Features and Benefits
Patent-pending vented carburetor evacuates air from the fuel line for easy starting. An integrated fuel valve and gas lever also provide for simple operation and easy starting by eliminating air in the fuel line.
A unique three-stage air filtration system provides a virtually dust-free engine for longer life and improved durability. A filter minder tells the operator when the air filter needs to be changed.
The guide handle offers a highly engineered, built-in shockmount system to reduce HAV (hand-arm vibration) and improve operator comfort.
Automatic shutoff feature will shut down the unit if left idling for an extended period of time, reducing emissions and carbon build-up.
Rugged rammers designed for the compaction of cohesive, mixed and granular soils in confined areas.
HAV rating - 5.4 - 8.6 (2 hours maximum daily use)
Hire rates for BS600 Rammer
Day
Weekend
Week
Deposit
Usual Price
£45.00
£56.25
£90.00
£300.00
ONLINE
DISCOUNT

£38.25

*

£47.81

*

£76.50

*

£255.00

*

* - Please use code ONLINE15 when ordering to take advantage of this offer

All Prices Subject to VAT charges
Call 0161 785 8899 to Hire This Tool Now Other Tools You May Be Interested In: