Tool Enquiry Form
Want to hire this tool? Enquire now!
Pole long reach Pruning Saw 2 strolke For Hire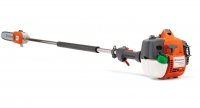 <span style="\\\\&quot;color:" rgb(51,="" 51,="" 51);="" font-family:="" \\\\'trebuchet="" ms\\\\',="" trebuchet,="" candara,="" arial,="" helvetica,="" sans-serif;="" line-height:="" 18px;\\\\"="">Pole saw with rapid acceleration and easy starting E-TECH® II engine. The versatile cutter head makes it easy to reach even dense trees and bushes without using a ladder or skylift. Low weight, good balance and rear-mounted engine provide a comfortable working position and reduced exhaust fumes. The cutter head has adjustable and automatic chain lubrication.
Hire rates for Pole long reach Pruning Saw 2 strolke
Day
Weekend
Week
Deposit
Usual Price
£35.00
£43.75
£70.00
£100.00
ONLINE
DISCOUNT

£29.75

*

£37.19

*

£59.50

*

£85.00

*

* - Please use code ONLINE15 when ordering to take advantage of this offer

All Prices Subject to VAT charges
Call 0161 785 8899 to Hire This Tool Now Other Tools You May Be Interested In: