Tool Enquiry Form
Want to hire this tool? Enquire now!
Floor Tile Stripper For Hire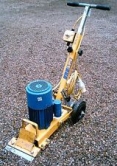 USE IT TO REMOVE ALL TYPES OF FLOOR TILES AND LINO AND GET BRILLIANT RESULTS.
Offers the user a machine of compact proportions cost effective for smaller projects. The fully adjustable chassis allows the operator to adjust the blade angle to suit different applications. Forward motion is achieved by manual effort made easier by the adjustable handle to suit different body heights.
Fully adjustable chassis to adjust blade angle, large diameter wheels for excellent mobility and stability.
Handle height adjustable for operator control
Hire rates for Floor Tile Stripper
Day
Weekend
Week
Deposit
Usual Price
£35.00
£43.75
£70.00
£150.00
ONLINE
DISCOUNT

£29.75

*

£37.19

*

£59.50

*

£127.50

*

* - Please use code ONLINE15 when ordering to take advantage of this offer

All Prices Subject to VAT charges
Call 0161 785 8899 to Hire This Tool Now Other Tools You May Be Interested In: