Tool Enquiry Form
Want to hire this tool? Enquire now!
Signal Generator For Hire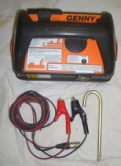 The Genny Signal Generator operates on 33kHz and increases the flexibility of the CAT cable avoidance tool by allowing it to detect a signal directly connected or induced into a cable or pipe by the Genny.
Hire rates for Signal Generator
Day
Weekend
Week
Deposit
Usual Price
£22.50
£28.13
£45.00
£75.00
ONLINE
DISCOUNT

£19.13

*

£23.91

*

£38.25

*

£63.75

*

* - Please use code ONLINE15 when ordering to take advantage of this offer

All Prices Subject to VAT charges
Call 0161 785 8899 to Hire This Tool Now Other Tools You May Be Interested In: