Tool Enquiry Form
Want to hire this tool? Enquire now!
Vacuum Slab Lifter Battery-Probst For Hire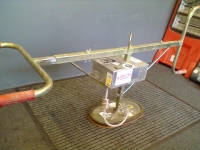 Will lift 150kgs
Vacuum pump unit with manometer, and suction force indicator, battery charging indicator and an on/off switch. Complete detachable unit, can also be mounted on other devices.
Handle for 2 man operation, handles height and width adjustable to accommodate with different laying tasks.
Special features:

Special seal, consisting of 2 components for opitmised sealing. Even when the suction plate is sitting on sharp edges for a long time, no permanent marks are left in the seal.
The seal can be exchanged without glue and any tool within 1 minute.
Hire rates for Vacuum Slab Lifter Battery-Probst
Day
Weekend
Week
Deposit
Usual Price
£40.00
£50.00
£80.00
£150.00
ONLINE
DISCOUNT

£34.00

*

£42.50

*

£68.00

*

£127.50

*

* - Please use code ONLINE15 when ordering to take advantage of this offer

All Prices Subject to VAT charges
Call 0161 785 8899 to Hire This Tool Now Other Tools You May Be Interested In: