Tool Enquiry Form
Want to hire this tool? Enquire now!
Airless Spray - Large Volume For Hire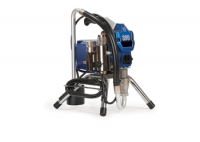 Endurance Pump with long-life V-Max packings, Chromex rod and hardened stainless steel cylinder.
QuikAccess intake valve to easily clean or clear debris.
Consistent pressure control delivers quality spray pattern with minimal fluctuation.
Easy Out Pump filter reduces tip clogs and ensures a quality finish.
Swivel Inlet Suction Hose - solid aluminum construction and no tools removal of hose.
Hire rates for Airless Spray - Large Volume
Day
Weekend
Week
Deposit
Usual Price
£60.00
£90.00
£120.00
£250.00
ONLINE
DISCOUNT

£51.00

*

£76.50

*

£102.00

*

£212.50

*

* - Please use code ONLINE15 when ordering to take advantage of this offer

All Prices Subject to VAT charges
Call 0161 785 8899 to Hire This Tool Now Other Tools You May Be Interested In: