Tool Enquiry Form
Want to hire this tool? Enquire now!
3.7 M ALLOY TOWER 13' For Hire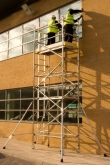 This tower is quick to assemble and erect, they come with complete and detailed instructions.
Boss Scaffold Towers
Tower frames lighter Integral ladders with 250mm rung spacing Frame horizontals have 500mm Boss spacing and ribbed tubing for increased grip. All supplied with components required to erect tower to the 3T (through the trapdoor) method as recommended by the HSE & PASMA. frame widths: 850mm 2 deck lengths: 1.8m and 2.5m Self closing trapdoors and windlock clips standard Safe working load of 275kg per platform level up to a maximum of 950kg per Boss towers (including self weight).
Braces locks colour coded: Red – horizontal; Blue – Boss Tower diagonal Patented double action trigger operated locking claws Floating spigots for easy assembly and dismantling. Self cleaning adjustable legs 150mm trail / no trail locking castors Unique deck profile protects edge of deck board
Hire rates for 3.7 M ALLOY TOWER 13'
Day
Weekend
Week
Deposit
Usual Price
£40.00
£50.00
£80.00
£250.00
ONLINE
DISCOUNT

£34.00

*

£42.50

*

£68.00

*

£212.50

*

* - Please use code ONLINE15 when ordering to take advantage of this offer

All Prices Subject to VAT charges
Call 0161 785 8899 to Hire This Tool Now Other Tools You May Be Interested In: